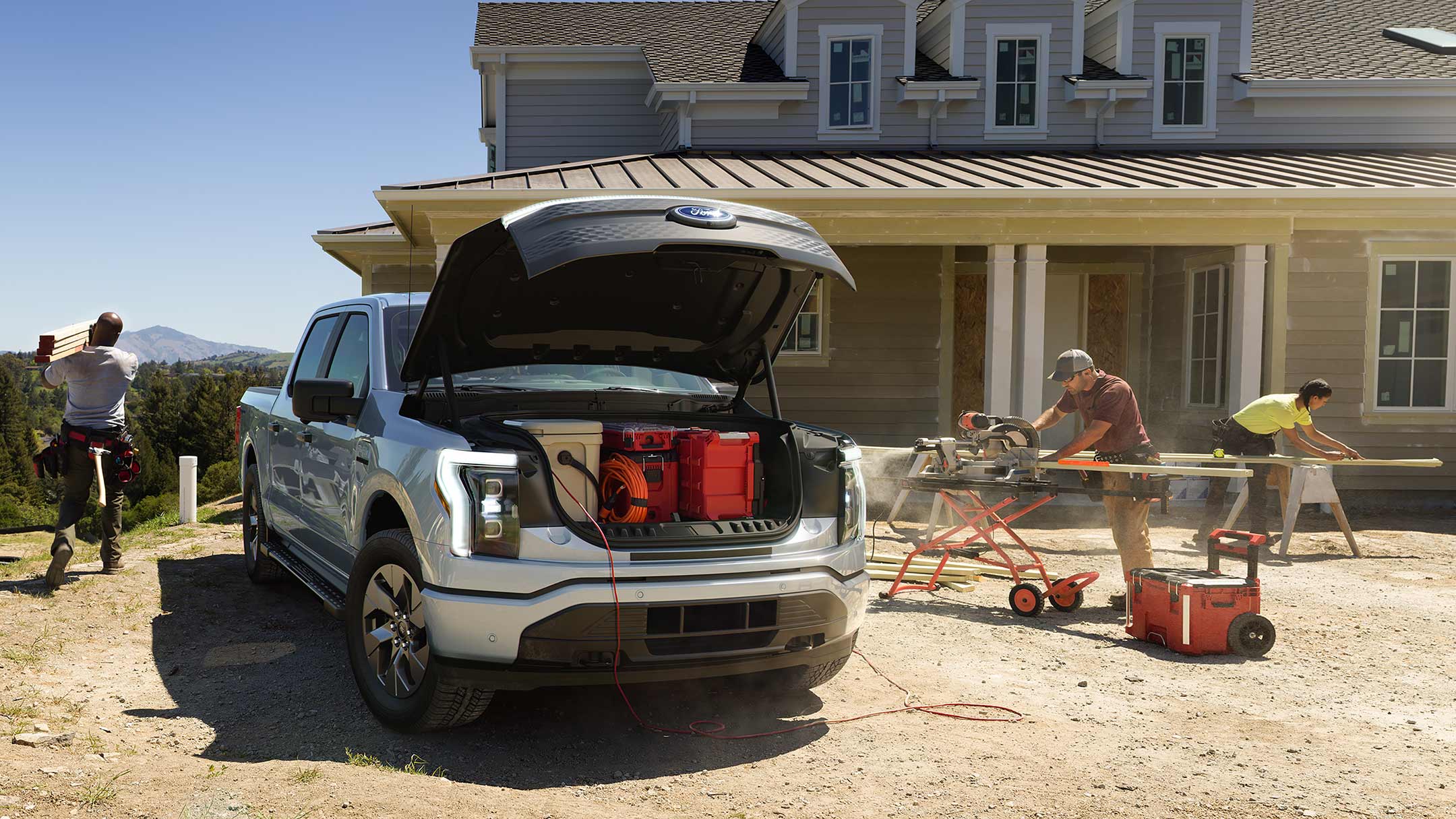 2022 F-150 Lightning at Rockland Ford
All About Ford's New All-Electric Pickup
The Ford F-Series pickup is already America's best-selling vehicle. In 2022, everything changes. The New F-150 Lightning is the first 100% electric F-Series pickup ever. It's a zero-tailpipe emissions vehicle, all-electric, and powerful as ever. The new Lightning is a powerhouse of features, technology, horsepower, and reliability. It's purpose-built with productivity and hard work in mind. Ford continues the Built Ford Tough motto throughout its design and execution to bring you a true marvel in the automotive world. Learn about why we're excited about the new Ford F-150 Lightning, its features, specs, and how you can get yours at Rockland Ford in Rockland, ME. Visit our Ford dealership today to reserve yours, choose the options you need, and meet our knowledgeable and helpful team!
Overview
While the Lightning name isn't new to Ford, creating an all-electric pickup truck is. Borrowing the Lightning branding from the past F-150 performance pickup, the new EV is designed to share much of its style and body composition from its gasoline-powered original. Instead, a pair of electric motors and battery packs power the impressive vehicle.
The Standard-Range battery provides you with up to 230 miles on a single charge, while the Extended-Range battery upgrades you to 300 miles.
Trim Levels
Just like the gasoline-powered F-150, the Lightning provides you with a wide variety of trim levels and added features to customize your experience to your needs. The trim levels include:
Pro
XLT
Lariat
XLT Extended Range
Lariat Extended Range
Platinum Extended Range
All-Wheel drive is standard on every model, and the Lightning is capable of towing up to 10,000 pounds. One of the greatest aspects of the 2022 EV is that the base Pro model has an incredibly approachable MSRP, making the switch to electric even easier. However, the Extended-Range batteries, upgraded features, and more make the higher packages even more tantalizing. For instance, the XLT model adds all types of worksite equipment, adaptive cruise control, and Ford's Pro Power Onboard generator for long days on the job, camping, and more.
All-Electric Performance
Every F-150 Lightning model comes standard with two electric motors and all-wheel drive to put down serious, immediate power. The Standard Range battery makes 426 horsepower, while the Extended-Range battery produces a blistering 563 horsepower and 775 lb.-ft of torque. This makes it more powerful than gasoline competitors by a longshot.
Towing Capacity
One of the main reasons for purchasing a pickup truck is towing and payload capacity. Ford listened to its main audience by creating an electric vehicle that can outperform its gasoline rivals. The F-150 Lightning has a towing capacity of 10,000 pounds with a 2,000-pound payload capacity.
Range and Battery Charging
The standard battery gets you 230 miles of range on a single charge. Upgrading to the Extended-Range battery earns you 300 miles. You can charge your F-150 Lightning at home with a 110- and 220-volt outlet. You can also charge it with public DC fast-charging stations. And it's fast, too. You can charge from 15 percent to 80 percent in only 44 minutes. The EV pickup can also act as a backup generator to fully supply you up to three days of electricity for an average household. Never worry about being stranded without power in a power outage ever again.
Interior Space
The cabin of the F-150 Lightning shares many similarities with the standard gasoline trucks. You will find plenty of space but with added infotainment displays, front-trunk cargo bay, and other creature comforts.
Speaking of infotainment, you're greeted with a 12.0" infotainment touchscreen system with Ford Sync 4 software. The Lariat and Platinum models upgrade the screen to 15 inches. Other great inclusions are:
Apple CarPlay
Android Auto
In-Dash Navigation
Wi-Fi Hotspot
Bang & Olufsen Premium Sound System
Ford BlueCruise Semi-Autonomous Driving Mode
Visit Us Today
Learn more about the Ford F-150 Lightning today by visiting our Rockland, ME Ford dealership. The new EV pickup is setting new standards when it comes to working vehicles. Stop by to customize your F-150 Lightning by choosing the options and features important to you. It's time to invest in the future with all-electric power and reliability.