2021 Ford Mustang MACH-E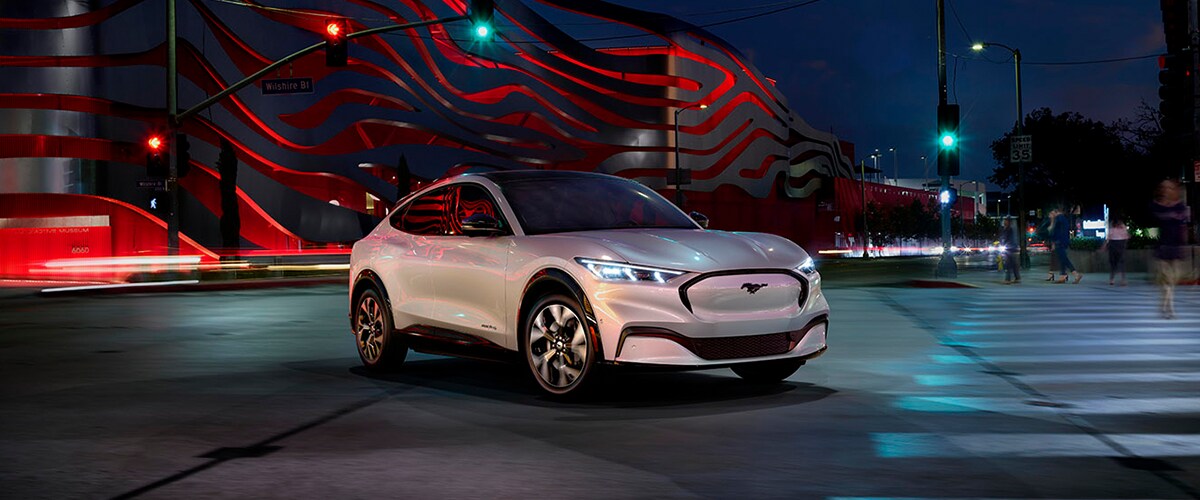 Learn about the 2021 Ford Mustang Mach-E
The 2021 Ford Mustang Mach-E for Maine Drivers
Rockland Ford is a proud seller of Ford's exceptional Mustang vehicles for drivers in Bangor, Portland, Augusta, and beyond from convertibles to sports coupes to special editions. Ford has produced some of the automotive world's best performing driving machines for decades, and they continue to reinvent themselves with new and improved versions. After 55 years, they're breaking the mold again with the new 2021 Ford Mustang Mach-E. This SUV gives you the power and performance you've come to expect from the Mustang lineup, and Ford has gone green with an eco-friendly electric vehicle. You still get the exhilaration of driving a Mustang, as well as all the cutting-edge features of contemporary automobiles, with plenty of seating and storage. The Mustang Mach-E SUV is good for driving around the city and highways without filling the air with a cloud of exhaust fumes. You also get the safety features you need to protect your family on the roads and horsepower that crushes the competition. To help you understand all the features of this new Mustang in Ford's corral, we're providing an overview of its performance, technology, and the trims available.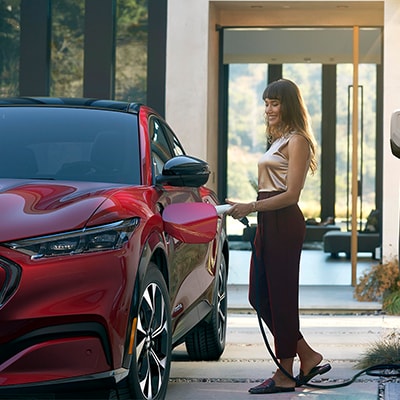 All-Electric Mustang with Impressive Performance
An all-electric vehicle with zero emissions doesn't mean you have to sacrifice power and performance. The electric Mustang Mach-E SUV included two editions, both with a stampede of power and speed on the road. The Mach-E GT is targeted at accelerating from zero to 60mph in under four seconds, which makes it faster than the Porsche Macan Turbo3. The GT Performance Edition tears up the asphalt with a 342Kw, or 459-horsepower, engine putting out 830 Nm, or 612 lb-ft, of torque that targets zero to 60 in the mid-three-second range. That makes it comparable to the Porsche 911 GTS. With all this power, you also get the distance with every charge, which makes this new Mustang Electric SUV an everyday vehicle to carry you and your passengers around town.
 Long-Range Travel & All-Wheel Drive Option
If you're worried about making it to a charging station while you're on the road, you can rest easy with the knowledge that Ford's new Mustang Mach-E SUV has outstanding range. Even the GT Performance Edition with all its power and all-wheel drive still delivers an EPA-estimated range of at least 235 miles from its 98.8 kWh battery. When you add Ford's available extended-range battery to a rear-wheel-drive version of the Mustang Mach-E, your vehicle now has an EPA-estimated range that surpasses 300 miles. When you do need to charge your electric SUV, the Ford Mustang Mach-E includes charging solutions built into the vehicle that direct you to nearby charging stations. It can also recommend places to charge when you're on unfamiliar roads, and you get access to the FordPass charging network, which includes more than 12,500 public charging stations. Ford makes eco-conscious driving fun and convenient, with plenty of options to keep your tires spinning. Whether you choose a rear-wheel drive or an all-wheel-drive option for your new Mustang SUV, they're powered by permanent magnet motors that offer efficient performance.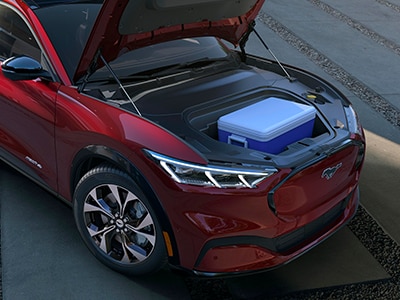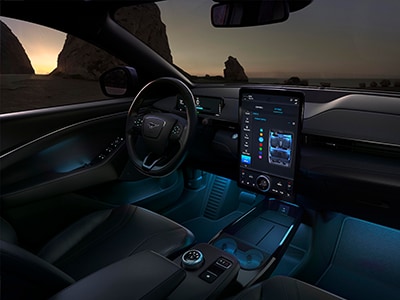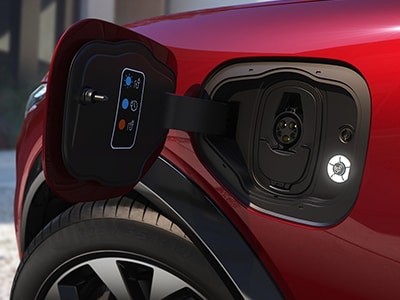 Three Different Driving Experiences in this SUV
With the 2021 Ford Mustang Mach-E electric SUV, Ford offers a unique drive experience that keeps you excited and in control. This vehicle offers a unique sensory experience coupled with finely tuned driving dynamics in the three drive experiences - Whisper, Engage, and Unbridled. The features in the Mach-E include customized vehicle responsiveness like sportier steering controls, dynamic cluster animations tied to your driving behavior, ambient lighting, and sounds that Ford has tuned for an authentic all-electric driving experience. Ford will also have a new all-wheel-drive system (eAWD) available that applies torque to the front and rear axles independently. This feature provides impressive acceleration and better handling that surpasses the rear-wheel-drive model. With improved handling and appealing sensory experience, while you drive, the Mustang Mach-E delivers all the style, power, and freedom drivers have enjoyed since the original Mustang with cutting-edge automotive technology.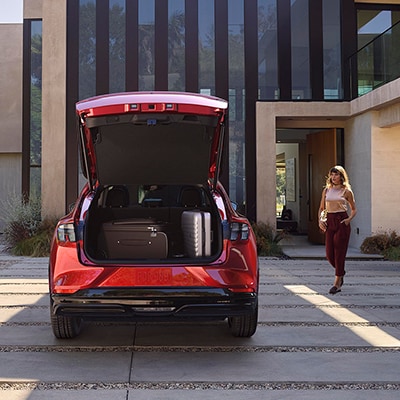 Seamless Technology in an Electric SUV
Ford's commitment to making your driving experience pleasurable with simple and convenient features extends to the seamless technology you find inside the Mustang Mach-E SUV. Making its first appearance in Ford vehicles is the SYNC communications and entertainment system, a next-generation technological perk of the Mach-E. The sleek and modern interface uses over-the-air updates and machine learning to learn your preferences as a driver, and it only gets better as time passes. The SYNC system uses an adaptive dash card interface and a 15.5-inch screen that abandons the complicated menus you find in other vehicles. Instead, it makes selecting your features easier with touch, swipe, and pinch controls. These controls are already a familiar and comfortable practice for anyone with a smartphone. With its easy control and enhanced learning capabilities, the next-generation SYNC system allows you to concentrate on the road while customizing your driving experience to your preferences.
Plenty of Space for on-the-Road Adventures
By choosing an SUV for your road adventures, you get plenty of space for you and your passengers as the miles pass in the rear-view mirror. The 2021 Ford Mustang Mach-E gives you the same advantages of ample seating and storage to keep everyone comfortable, which is paired with this electric SUV's improved handling and impressive power and range. Another storage feature that the Mach-E offers is the drainable front trunk storage unit, located under the hood with the all-new propulsion system. This unit gives you 4.8 cubic feet of storage space to stow away your shopping bags, sports equipment, or weekend luggage. The front trunk has enough space to fit a carry-on luggage bag, along with many smaller bags. Since the storage space is drainable, you can use it to hold your favorite beverages and even pack it full of ice. If you attend tailgates, take trips to the beach, or enjoy your outdoor family time at local parks, having a front trunk space for temperature-sensitive food and drinks can come in handy.
Safety Features to Keep You Protected 
With all the power and performance you get in the Mustang Mach-E SUV, Ford has also invested in state-of-the-art safety features to ensure you and your passengers stay protected. The new E-Latch system for the doors makes getting in a cinch with the push of a button on each of the doors. You can also get the Ford Co-Pilot360™ safety suite to enhance the safety of your vehicle at all times while you're on the road. This system includes an advanced collection of standard driver-assist technologies. Ford's Co-Pilot360 safeguards your driving experience with such features as a blind spot information system, automatic emergency braking with pedestrian detection, auto high beam lighting, and a rear backup camera. Other advanced system features include a lane-keeping system to help you avoid wandering too close to your lane's edge, as well as evasive steering assist that detects stationary or slow-moving vehicles in front of you using a camera and radar.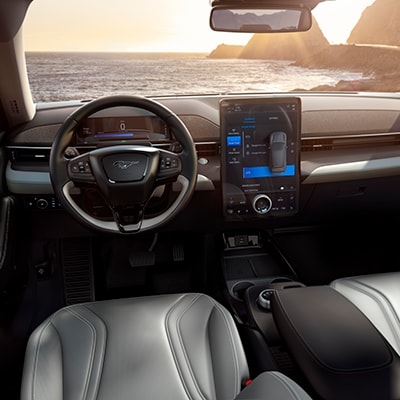 Still the Mustang You Love Inside & Out
Ford may have reinvented their Mustang lineup with the eco-conscious Mach-E electric SUV, but you'll still easily recognize it as one of the show ponies in the lineup. This vehicle still has the signature elements that make it a Mustang, including the long, powerful front hood, trademark tri-bar tail lamps, and aggressive headlights. The benefits of this all-new SUV make it a comfortable and convenient driving machine, such as the surprising roominess in the rear seats and abundance of cargo space. You'll enjoy the power and unmistakable style of a Mustang vehicle that fits the whole family for mile after mile of all-electric travel.
Trims Available for the Ford Mustang Mach-E SUV
The 2021 Ford Mustang Mach-E SUV will come in several different trims from which drivers can choose according to their preferences.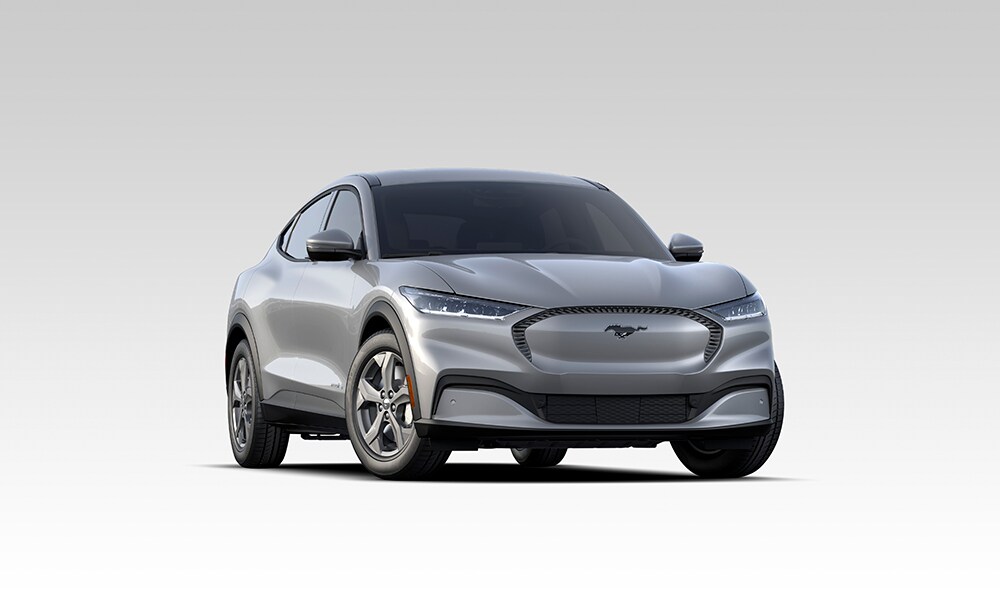 Select
The Mach-E Select is the base model with a 75.7 kWh battery pack, 255 horsepower, and 306 lb-ft of torque.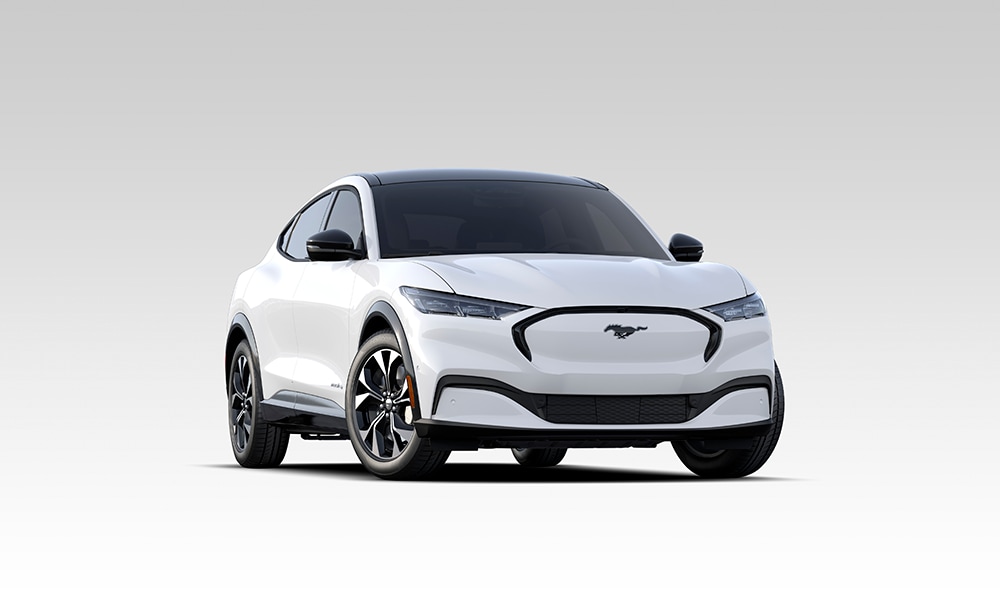 Premium
The Mach-E Premium gives you 255 horsepower and 417 lb-ft of torque in the all-wheel-drive option with a range of 210 miles. If you choose the Extended Range AWD package, you get 255 horsepower and a range of 270 miles.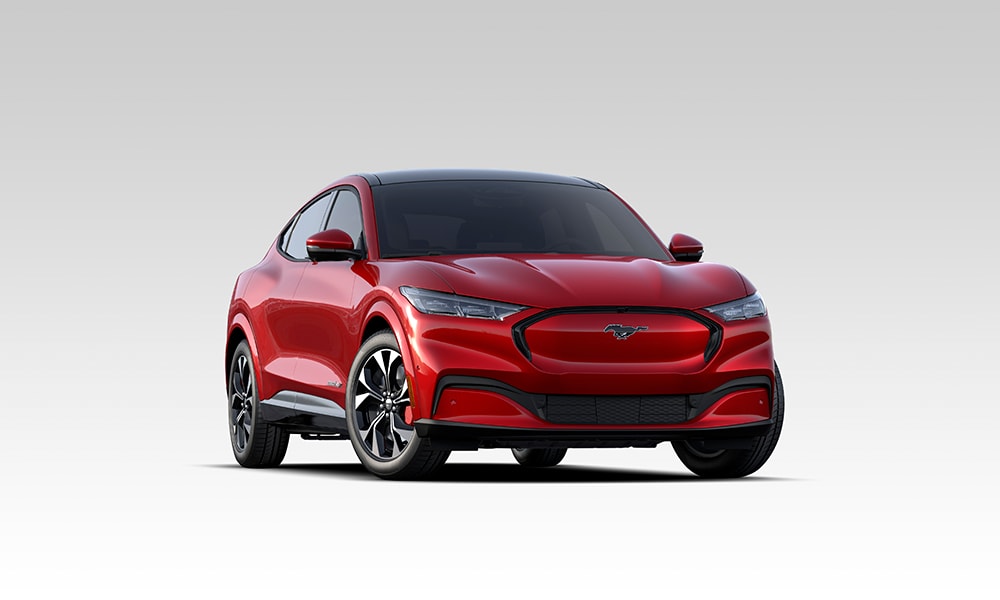 First Edition
The Mach-E First Edition only comes with the Extended Range battery pack and AWD layout, which delivers 332 horsepower, 417 lb-ft of torque, and a 270-mile range.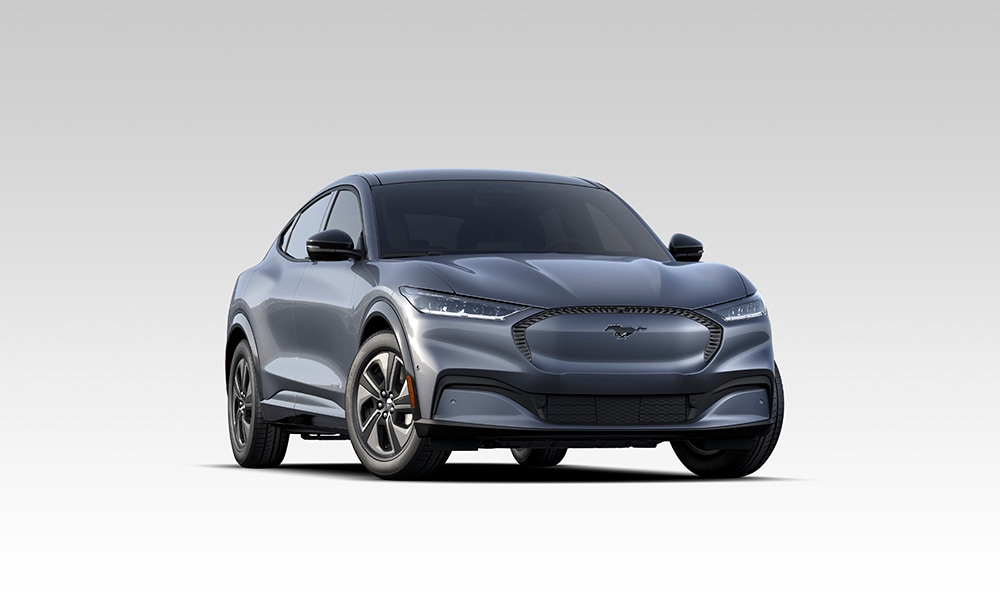 California Route 1 Edition
With the Mach-E California Route 1 Edition, you'll enjoy 282 horsepower, 306 lb-ft of torque, and a range of 300 miles, thanks to its rear-wheel-drive layout and Extended Range battery pack.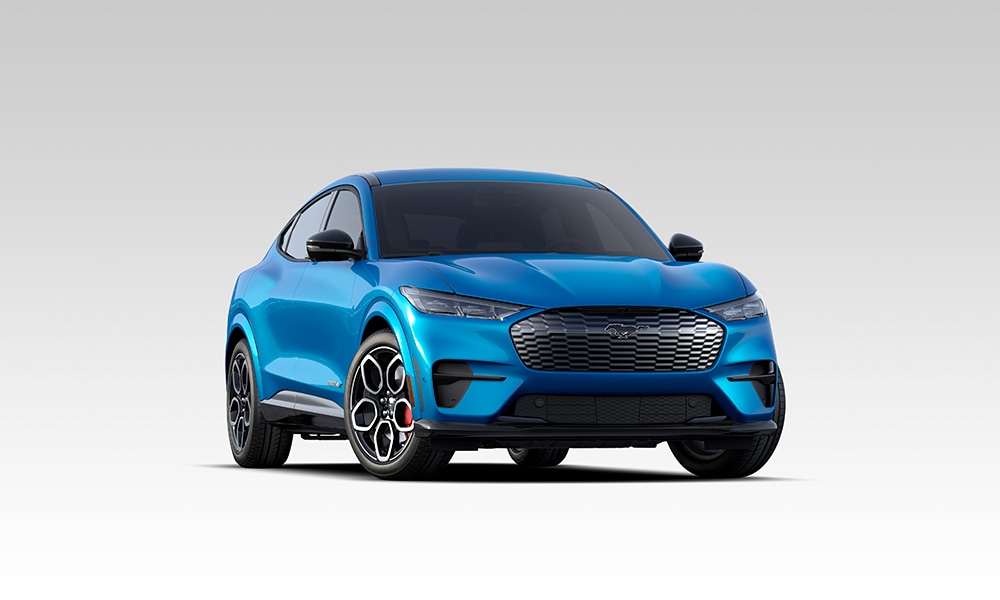 GT
The Mach-E GT is a road warrior with 459 horsepower and 612 lb-ft of torque, and you still get a range of 250 miles. If you choose the Mach-E GT Performance version, you'll own the road with the fastest and most powerful Mach-E option in the lineup.
Call or Visit Rockland Ford for Your Next Mustang
Rockland Ford is ready to help drivers across the state of Maine find the Ford vehicle of their dreams, and the new 2021 Ford Mustang Mach-E proves to be an impressive and eco-conscious edition to the Mustang family. With power, style, state-of-the-art driving, and safety technology, and the classic and unmistakable spirit and appearance of a Mustang, you'll enjoy driving this electric SUV through town. Whether you drive for work, errands, or pleasure, the Ford Mustang Mach-E is a premium automotive experience.