2020 Ford Mustang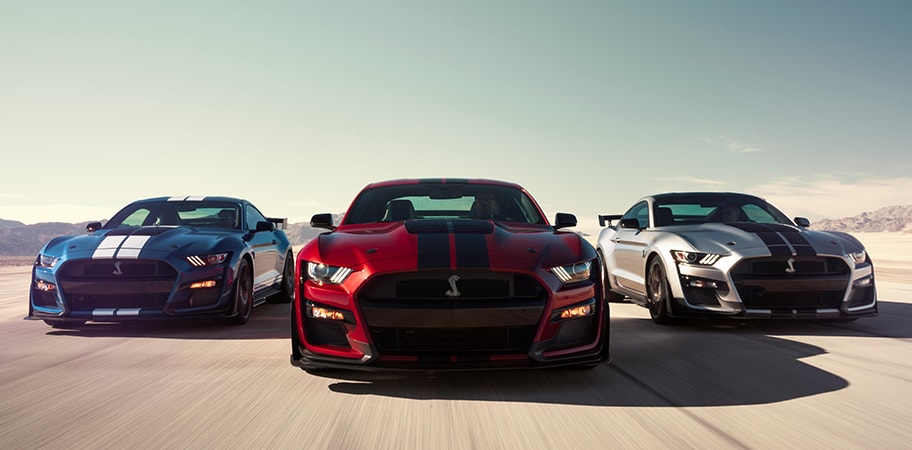 Learn about the 2020 Ford Mustang
Get a 2020 Ford Mustang at Rockland Ford
At Rockland Ford, we want to help match you with the vehicle of your dreams in Portland, Augusta, Bangor, ME, and beyond. If you're looking for power and style with decades of notable automotive design in your next vehicle, consider getting a 2020 Ford Mustang. The horsepower and sleek lines of Mustangs make them one of the most favored vehicles on the road today. We keep a selection of different models in stock so that you can own an American classic with cutting-edge features and technologies. You'll find a Ford Mustang for sale on our lot that suits your style, from a hardtop model to a sporty Ford Mustang convertible. At Rockland Ford, we don't expect you to have in-depth automotive knowledge about all the different Ford Mustang models, which is why our sales staff has all the information you need to answer your questions. With our help, you can make an informed decision about the vehicle you ultimately take home. However, it's always a good idea to learn about a car so that you know whether it's a good fit for your taste and needs. We've supplied an overview of useful facts about the 2020 Ford Mustang and what it has to offer.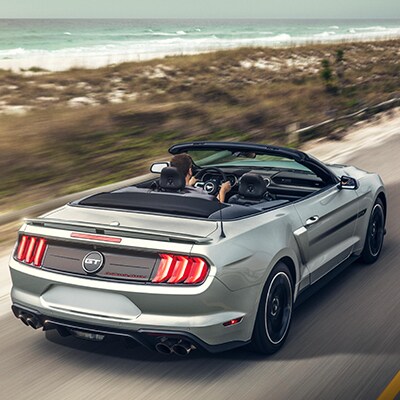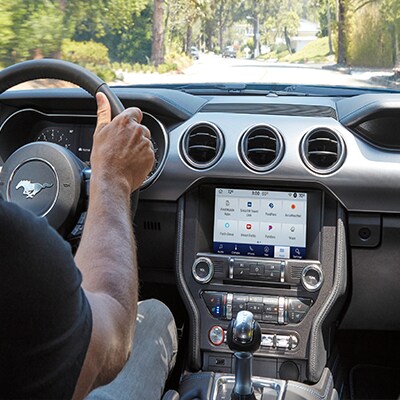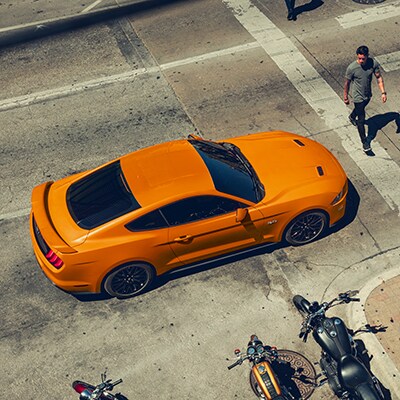 Amazing Performance on the Road
With Mustangs, you don't have to worry about a lack of horsepower to handle the road. The 2020 Ford Mustang offers a variety of engines to give you the power you need:
EcoBoost® Options - The 2.3L EcoBoost® gives you 310 horsepower and 350 lb-ft of torque, along with turbocharging and direct injection for plenty of power. With the 2.3L High-Performance option, you get 330 horsepower in the most powerful EcoBoost® engine that's ever been in a Mustang.
GT Option - Get your adrenaline rush with this 5.0L Ti-VCT V8 engine that delivers 460 horsepower and 420 lb-ft of torque to tear up the asphalt. You'll also get the benefit of port fuel direct injection.
Bullitt - This option adds a 97-millimeter air intake to the standard Ti-VCT V8 engine, which enhances the horsepower and torque. You'll enjoy the speed of 480 horsepower, 420 lb-ft of torque, and port fuel direct injection.
Shelby GT350® - This track-ready engine is pure power in your Mustang. The 5.2L NA Ti-VCT gives you 520 horsepower, 429 lb-ft of torque, and a redline of 8,250 rpm, and it comes standard in the Shelby GT350® and Shelby® GT350R packages.
Shelby GT500® - The standard engine in the Shelby GT500® is a 5.2L supercharged cross-plane crank V8 powerhouse of speed. It's projected at over 700 horsepower, delivers 625 lb-ft of torque, goes from zero to 60 in the mid-three seconds, and travels a quarter-mile in sub-11 seconds. This is the most powerful production Mustang engine that ever been produced.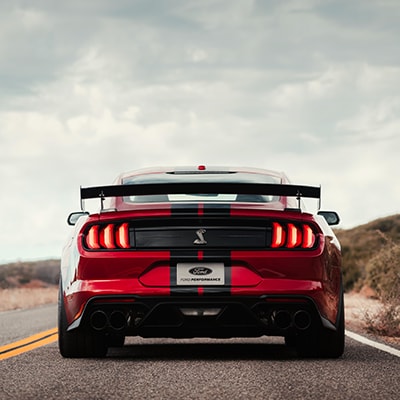 Transmission Options for Comfortable Shifting
To help you customize how you handle all that horsepower in your engine, the Ford Mustang offers three different transmission options that allow you to shift and drive with the method with which you're comfortable. The available options for transmissions include the 10-speed automatic, the TREMEC® six-speed manual, and the TREMEC® seven-speed dual-clutch. Ford designed each of these transmission options to help you get the most out of driving your 2020 Ford Mustang. If you choose the Shelby GT500®, the standard transmission is the TREMEC® seven-speed dual-clutch. This all-new transmission option is the Mustang's first-ever dual-clutch system, and it comes with various modes that help you make lightning-fast shifts on the track or driving around town. The Ford Mustang emphasizes pure, adrenaline-boosting power, but they also want to make sure you have the control you need to manage your drive. You could be going for a new best quarter-mile time or driving to work. With Ford's transmission options, you can shift with ease and enjoy the roar of the engine.
Safeguarding Your Drive with Safety Features
With all that power under the hood, you want to make sure you and your passengers are protected while you drive. The Ford Safe and Smart™ package is a collection of driver-assist technologies that ensure your safety as the car is in motion, and it includes the following:
Pre-Collision Assist with Automatic Emergency Braking - This feature scans the road in front of you to alert you of potential collisions, whether they be pedestrians or other vehicles. If an impact is imminent, it will automatically apply the brakes.
Lane-Keeping System - You'll stay in your lane easier with this feature, even when you're distracted. It scans your position between the lines on the road and alerts you when you're drifting out of your lane. If you drift a few times, a coffee cup icon will light up and let you know you should take a break.
Adaptive Cruise Control (Available) - With this advanced cruise control option, you'll keep the set pace of your drive with the added feature of it slowing your vehicle when the traffic ahead has slowed or stopped. When the road clears and traffic moves again, the cruise control will resume your set speed.
BLIS® with Cross-Traffic Alert - The Blind Spot Information System (BLIS®) alerts you when there's a vehicle in your blind spot. Cross-Traffic Alert comes in handy when you back down your driveway or out of a parking spot since it detects traffic behind you.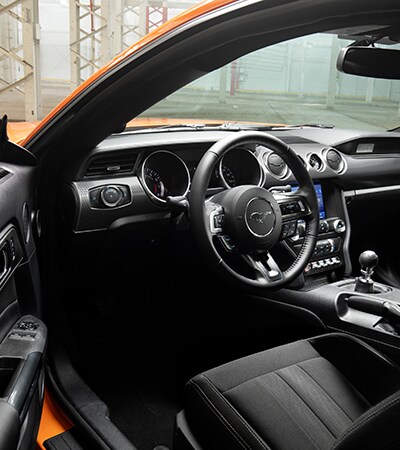 Beautiful Ford Mustang Interior Design & Features
The interior of the vehicle gives you a classic Mustang look with modern features and technologies for vehicle display and entertainment. With the 2020 Ford Mustang, your display customization options are quick and simple on the optional 12-inch LCD digital cluster. It doesn't just act as the center of attraction with the customization options. When you need Track Apps®, it displays the performance metrics of your vehicle. An essential feature of any modern Ford automobile is the Ford SYNC® 3 infotainment system. You can integrate Android Auto™ or Apple CarPlay™ with your SYNC® 3 system for social media and entertainment while you travel, keeping you and your passengers happy for miles. Driving at night, in the rain, and other conditions is not a problem is you control the vehicle with the Mustang's classic three-spoke steering wheel and utilize features like the rain-sensing wipers and high-beam headlights.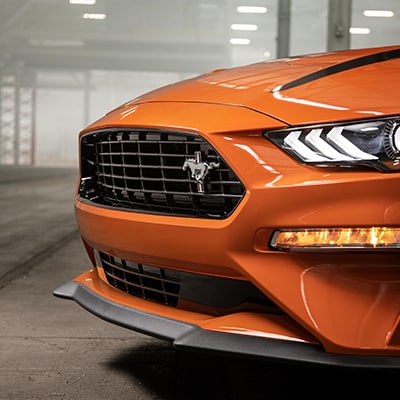 Distinguishing Design Features of the Mustang
While each trim option of Ford Mustang has its features specific to the model for drivers to enjoy, certain familiar attributes are a comforting design aspect of any Mustang. Besides the quintessential pony emblem that marks Ford's muscular star of their lineup, you also have dependable features in the build that display its power, style, and modern lines while still honoring the classic design elements. The long, powerful hood houses the beastly engine and ample horsepower, and it plays a distinctive role in the build of any Mustang. Every Mustang also has the three-bar tail lights to identify it as a member of the muscle car lineup. Its aggressive headlights pierce the darkness and let other drivers know you're a formidable vehicle on the road with over five decades of automotive excellence rolling on four wheels. The 2020 Ford Mustang boasts contemporary features and technology while maintaining its distinctive design features.
Find the Ford Mustang Model That's Right for You
You'll find the variety you need without sacrificing power or sleek design when you invest in a 2020 Ford Mustang. If you wonder what the different types of Ford Mustangs are available in the 2020 lineup, we're happy to say you have nine different trim options and six engine configurations from which to you can choose:
Ford Mustang EcoBoost® Fastback - This trim option is a sound investment that gets you plenty of horsepowers and a combined 24 miles-per-gallon rating.
Ford Mustang EcoBoost® Convertible - Enjoy the wind in your hair as you drive this economic showpiece with the same engine as the EcoBoost® Fastback and a combined 23 miles per gallon.
Ford Mustang GT Fastback - Upgrade your torque and horsepower with the GT model and enjoy the look and speed of a Fastback option.
Ford Mustang GT - The GT trim option gets you 460 horsepower from the 5-liter V-8 engine, making you ready to tear up the road.
Ford Mustang GT Premium Convertible - You get all the power and speed of the GT in a sporty convertible option that lets you drop the top during nice weather.
Ford Mustang Bullitt™ - Get a boost from the GT's horsepower with Bullitt™'s air intake knocking it up from 460 to 480 horses under the hood.
Ford Mustang Shelby GT500® - With the ample power and torque of the GT500®, you're ready for setting a new best time at the track or cruising the highway.
Ford Mustang Shelby® GT350R - With 520 horsepower, you have the adrenaline rush you've been looking for with a redline that lets you roar your engine.
Shelby® GT500® - The Shelby® GT500® has the most powerful engine of any Mustang, projected at more than 700 horsepower and accelerating from zero to 60 in mid-three seconds.
We're Ready to Serve Maine Drivers
Let the team at Rockland Ford help you choose a 2020 Ford Mustang that suits your need for power and style. We'll show you the trim options that match your checklist of automotive features and make sure you're completely satisfied with your new car. Whether you want a more economical option or a powerful track king that tears up the asphalt, the 2020 lineup of Ford Mustangs features state-of-the-art safety and infotainment technologies coupled with the sleek, aggressive design and horsepower. Contact us if you have any questions about the Ford Mustang options we offer, and you can get started on the purchase of a new EcoBoost®, GT, or Shelby® GT350R.

Hours
Monday

8:00 am - 7:00 pm

Tuesday

8:00 am - 7:00 pm

Wednesday

8:00 am - 7:00 pm

Thursday

8:00 am - 7:00 pm

Friday

8:00 am - 6:00 pm

Saturday

8:00 am - 5:00 pm

Sunday

Closed